Fly-tipping Costs More Than Pounds
In May 2015, a new law came into effect fining £400 "on the spot" for fly-tipping. It's too soon to tell if the law is making any difference. The figures from a 2015/2016 report released recently by the Department for Environment, Food and Rural Affairs (Defra) show an increase of about 36,000 cases of fly-tipping and only 2,135 were prosecuted. Illegal rubbish dumping continues to increase and the costs of policing, cleaning up and legislating are also rising.
Why is this happening?
One of the reasons given points to the pressures put on local councils to reduce costs resulting in cuts to collection services, enforcement that includes surveillance and actual clean-up. Across the country waste disposal sites have been reduced and are not as accessible as they previously had been. Another reason involves increased fees for collection services so people feel justified in dumping illegally. But clearly, the main reason is that there is more to dump. We buy more, use more and throw away more than ever before.
How much is it costing?
Roadside dumping of black bags is the most common fly-tipping and local authorities are responsible for removing them. One bag costs £7 to clear. One item such as a TV set costs £29. A car boot load costs £29, a van load costs £56 and a large van load costs £115. Other categories are priced according to size, such as "tipper lorry load" or "significant or multi loads". It all added up to costing local authorities approximately £49.8 million in 2015/2016 for removal. Almost 500 thousand cases were prosecuted at an estimated cost of £16.9 million. Prosecution costs have risen by 20 percent for 2015/2016.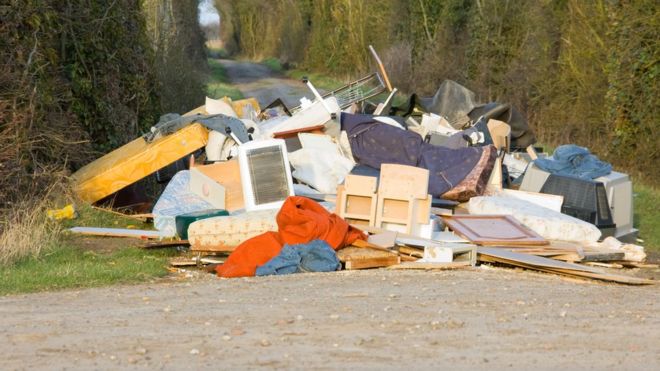 The Real Cost of Fly-tipping
Motoring along a beautiful country road enjoying the scenery you see masses of trash lying along the roadside. The view is spoiled as your thoughts go to why this has been dumped and how it affects everyone. Communities are less clean. Also, the risk of disease and environmental damage are huge costs to us all. A spokeswoman for the environment put it bluntly, calling it "environmental vandalism", and stated that the money wasted on this unacceptable behaviour should be put to better use on crucial front line services. Read more about the dangers of fly tipping.
The financial costs are great and the struggle continues to develop new programmes that will eradicate fly-tipping. More importantly, our natural resources, our children's future and England's beautiful countryside are paying an unnecessary price.