Every year, we produce around 2.12 billion tonnes of waste which is having a profound impact on our planet. Despite the efforts of authoritative bodies across the globe introducing various schemes and initiatives to encourage us to recycle more — the majority of our waste is continuing to culminate in landfill sites; which is leading to detrimental consequences for the environment.
It's important to note however, that along with landfills being buried deep underground, some of our waste ends up in the ocean illegally. Some studies have found that up to 1.4 billion pounds of rubbish end up in our seas and rivers each year which is having such a devasting effect on marine life, that scientists have estimated the amount of plastic will outweigh the fish by 2050.
Such high levels of waste is partly down to the fact that 99% of the items we purchase are usually disposed of within six months. As a result, an increasing number businesses worldwide are exploring more ways to create their products sustainably in a bid to help improve the world that we live in.
Lush Cosmetics: Naked Products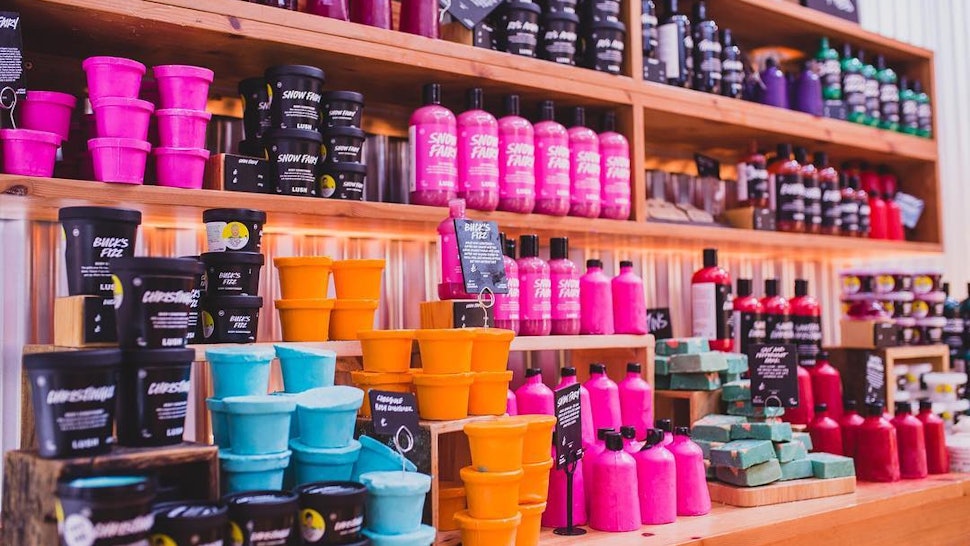 Frequently referred to as one of the UK's most environmentally-conscious brands, Lush Cosmetics claim to be 100% vegetarian, promote ethical buying, campaign against animal testing, hand-craft their products and offer naked packaging products which is helping diminish the chaotic packaging crisis now faced by Britain.
Some figures suggest that an average person uses around 200 pounds of plastic each year — 60 pounds of which is instantly thrown away. This has highlighted a huge problem and put great responsibility upon businesses internationally and through innovative design, Lush Cosmetics were able to develop several products that didn't require packaging to sell.
There are plenty of naked products available, from shampoos to shower gels and more. As well as this, all of plastic used by Lush is 100% recycled.
Traidcraft Shop: Recycled Tableware
Since its inception in 1979, Ngwenya Glass has been handcrafting quality bespoke glass products that have a real socio-environmental impact on so many lives and landscapes throughout the nation of eSwatini. Originally set up as a Swedish Aid Project, Ngwenya Glass now trains over 60 people in the art of glassblowing to create one-of-a-kind pieces of ethical home ware that are sold on Traidcraft's website alongside a wide variety of fair trade coffee, tea, food products and gifts.
Each and every day, Ngwenya Glass prove that committing to the protection of the environment can exist hand in hand with commercial success. All products are handcrafted from 100% recycled glass, sourced from throughout eSwatini by local people. Ngwenya Glass encourages communities to come together for clean-up days along main roads in the area to gather discarded glass. Most of the glass used to be soft drink bottles!
Glass-gatherers employed by Ngwenya Glass are payed by the kilo of glass they collect, while empowering them to conserve their environment, too. The business also works with local schools to educate young people in the importance of environmentalism and recycling, and supports schools with building materials and learning resources.
Waste boards: Skateboards
As a means of making use of and reducing plastic waste in Amsterdam, Wasteboards is a company that takes an eco-friendly approach to creating skateboards. Benefiting the environment as research has suggested that there are 20,000 plastic bottles are being bought every second, this forward-thinking company collect plastic bottle tops to create the deck of the board.
The company also believe in giving the local community a helping hand and encourage people to collect discarded bottle tops from different events to ensure they can continue the development and production of unique skateboards in the future. As well as this, fishermen who use the canals in Amsterdam are also asked to collect as much as they can.
Something that makes these skateboards particularly appealing is that fact that each one is handmade and moulded into a design that creates an aesthetically pleasing product for a younger audience. This company loves the idea of being sustainable and being able to sell a sustainable product, so even if your waste board breaks — they'll recycle the broken plastic and create you a new one!
Fjällräven: Re-Kånken and Eco-Shell
The Kånken bag may be something that you are already familiar with – it has caught the eye of British consumers recently. Originating from a small town in Sweden, the company focuses on outdoor clothing and equipment and is committed to making nature more accessible for adventurers alike while having a focus on the simplicity of their products.
While Fjällräven pride their offerings on simple designs, the ways in whichthe bag is crafted is a lot more complex. To play their part in helping the environment, they released the Re-Kånken bag which is made entirely from polyester recycled from plastic bottles. As well as this, it is dyed with SpinDye technology which 'radically reduces' the amount of water, energy and chemicals used.
Another product from Fjällräven, Eco-Shell, also avoids using materials that are harmful towards the environment. Eco-Shell is also made from recycled polyester and unlike many other products on the market, perflourinated chemicals are not involved in the creation.
The companies listed above are only a small number of the many businesses trying to do their bit in helping the environment. This proves that the ability to be creative and think outside of the box can truly have admirable benefits that help both people in the planet — could you become more ethically focused?
Sources:
http://www.theworldcounts.com/counters/shocking_environmental_facts_and_statistics/world_waste_facts
https://4ocean.com/blogs/blog/how-much-trash-is-in-our-ocean
https://ngwenyaglass.co.sz/history
http://www.artemisamsterdam.com/en/design-art/exhibitions/plastic/451-wasteboards
https://www.shemazing.net/saving-the-earth-one-bath-bomb-at-a-time-lush-expands-naked-packaging/
https://uk.lush.com/products/lushopedia/twilight-0